Craig Monson's
Nuns Behaving Badly
is an unassuming collection of events at five Italian convents spanning the late 16th to the early 18th centuries whose inmates asserted themselves against the severe boundaries that delimited their lives. Despite its title and this picture which graces the back of my edition's dust jacket –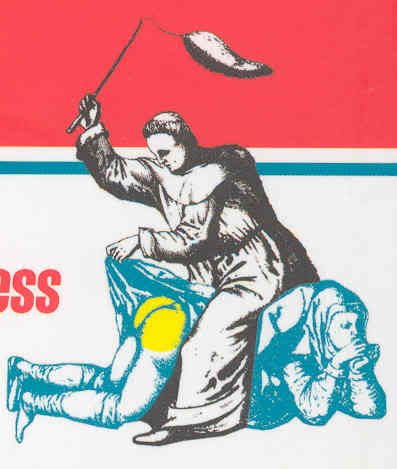 there's little that's salacious. Anyone hoping to read about orgies or demonic rites a la The Monk will be disappointed. In fact, in regards to sex and convents, Monson writes:
"Those who would spin nun-priest fantasies in the world, whether today or in eighteenth-century Bologna, would be surprised and probably disappointed to learn that contacts between male and female celibates in post-Tridentine Italy usually centered on less salacious intimacies than those that might take place in bed. Often characterized by words such as amicizia (friendship, amity), intrinsichezza (intimacy, close inwardness), domestichezza (familiarity, acquaintance, conversation), these relationships commonly involved activities that seem positively "domestic" by most notions of shocking behavior. Cooking treats, mending clothes, sewing, washing, passing letters, exchanging gifts – these were the "crimes" the church often considered scandalous. Or, of course, there were the expected incidents of carnival silliness. All in all, when the post-Tridentine cloister wall became virtually impregnable, interpersonal preoccupations seem generally to have shifted from the more explicitly lascivious to what was more realistically practical. While some of these relationships might borrow elements of secular courtship or marriage, evidence suggests that in most cases the relationships were scarcely physical, much less overtly sexual." (pp. 169-70)
Monson is a professor of music at my alma mater, Washington University in St. Louis, and I found it interesting how he came to write this book. He ran across a manuscript of songs sung by nuns and was surprised to discover verses like this:
"You who've got that little trinket,
So delightful and so pleasing,
Might I take my hand and sink it
'Neath petticoat and cassock, squeezing." (p. 2)
From there, he descended into the Vatican archives and uncovered a trove of stories about convents and their often tumultuous relationships with the Roman Church hierarchy. Most of the stories are incomplete, fragments of transcripts that break off mid-investigation, leaving the reader without a resolution. Monson managed, however, to piece together the five cases presented here. Neither Monson nor his protagonists have any agendas. Monson is not arguing that these cases represent a proto-feminism in early Modern Italy. And the nuns have no motives beyond trying to exercise some control in their own lives.
Aut virum aut murum oportet mulierem habere
A woman should have a husband or a wall
Chapter one is an overview of convent life in Catholic Italy, and I enumerate below some of the interesting things I learned:
1. Respectable women were either married or in a convent, which was the "sink" for a family's otherwise useless daughters. (Dowries went from the bride's family to the groom's, so a surfeit of girls could impoverish even the wealthiest of families.)
2. Because of #1, a city's population could comprise a large number of nuns (14% of the citizenry of Bologna c. 1630).
3. Not surprisingly, most nuns did not have a real vocation.
4. Despite vows which forbade contact with the outside world, these women kept in touch with relatives and friends and the gossip of the city via the
parlatorio
, a grated window to the world, and the convent chapel.
5. In the 1500s, convent singing expanded beyond the plainchant to the polyphonous chants their male brethren were singing, much to the dismay of many (male) churchmen.
6. Convent choirs and individual singers, for a variety of reasons Monson touches upon, became popular tourist attractions in many Italian cities, even getting mentions in the "Lonely Planet" guides of the period.
7. A convent was nearly the only place a reputable woman could sing.
8. Convents were divided into two classes of nun: the
professe
– the upper class/aristocratic daughters of the well-to-do who labored at the more genteel arts of weaving and such, and the
converse
– the daughters of commoners who kept the cloister running.
9. Despite the lack of real vocations and their severely restricted lives, many professe had – potentially – more fulfilling lives than their secular counterparts. (A relative measure, of course, since they were still powerless outside of the convent's walls and wards of their male superiors.)
As a quick and dirty primer on conventual life, I found this part of the book very useful. The remaining chapters are self-contained case studies about individual convents, beginning with the scandals that plagued San Lorenzo in Bologna in 1584. For lovers of Gothic romances like The Monk, it's this first case and that of San Niccolò di Strozzi that come closest to the sordid escapades one finds in that genre. At San Lorenzo, the inquisitor discovered evidence that the sisters had conjured a devil to help find a missing viola (unsuccessfully). But they were restored to a respectable state after a mild penance. (Monson points out that it is ironic that an inquisitorial investigation operated under stricter guidelines and almost modern models of investigation than its secular counterparts.) At San Niccolò, an ill-considered conventual establishment and a clash between the nuns and an obnoxious archbishop culminated in arson.
At the end, this glimpse into the lives of these women fascinated me and I would recommend it. It also left me melancholic, seeing so many lives stunted by the social and religious demands of their culture. E.g., in the eyes of Cardinal Paleotti, the corruption at San Lorenzo began when the nuns were allowed to sing to adoring public audiences. In answer, he forbade any songs other than plainchant and then only in the privacy of the cloister. Or that in 1703, Pope Clement XI banned carnival and opera for five years, hoping to avert the wrath of God for Italy's licentiousness (expressed in a recent series of earthquakes). In 1708, Santa Cristina della Fondazza's young singing star and opera fanatic, Christina Cavazza, defied her vows to attend performances at the reopened Teatro Malvezzi and endured ten years of house arrest and imposed silence for it.
In his epilog, Monson mentions modern-day examples of Catholic nuns (and congregations in general) defying the male hierarchy: In St. Louis, Archbishop Raymond Burke excommunicated three sisters for getting ordained, excommunicated the board of the city's Saint Stanislaus Kostka parish for refusing to relinquish control of the church and its endowment, and he forbade Saint Cronan's parish from hosting in its sanctuary a Jewish rabbi (female) whose synagogue had played host to the ordination mentioned in the first item. (The parish got around the prohibition by sponsoring the rabbi in a tent pitched in the church's front yard; and Saint Cronan's church experienced a surge in attendance as the faithful expressed their support against inordinate episcopal pressure.)
It should come as no surprise that Archbishop Burke has since gone on to become head of the Congregation for the Doctrine of the Faith (the modern Inquisition).